Napoleon Rodeo Pro 57cm Kettle On Legs
Get grilling with the original infrared grilling fuel using Napoleon's PRO Charcoal Kettle Grill. You'll know it's a Napoleon with the iconic WAVE™ cooking grids for those distinctive sear marks.
Easy access, hinged, porcelain coated cast iron cooking grids make adding more charcoal or woodchips effortless, while three cooking heights and masterful airflow management provide precise temperature control. The improved PRO Air Control system increases air and temperature accuracy.
A large stainless steel heat diffuser lifts the charcoal up off the bowl of the kettle evenly radiating heat throughout the grill and directing spent charcoal down to the ash catcher. On the outside, this grill shines. The porcelain coated steel body shrugs off the elements. The lid features an offset hinge that opens, allowing access to the whole cooking surface while keeping your hands away from the heat.
Take the Napoleon Rodeo Pro Charcoal Kettle BBQ where the party is 'cause it's got the moves! This 57cm kettle BBQ with legs is a prime example of a versatile original grilling machine. Charcoal is the original infrared grilling fuel, and with its large 365 inches square of grilling surface, the PRO22K-LEG is perfect for grilling up to 23 large burgers at once. In the box you will find your very own Rodeo Professional Charcoal Kettle Grill with Legs, the porcelain enameled, heavy gauge steel body, a heavy gauge steel charcoal grate to keep the lit coals off the bottom of your kettle and the stainless steel heat diffuser. The cast iron cooking grids with built in hinges for easy charcoal reloading and a removable heavy gauge steel ash catcher for easy cleanup. The box also contains the manufacturing instructions and all assembly hardware needed.
HINGED LID
Provides full access to the grill while leaving both hands free for cooking.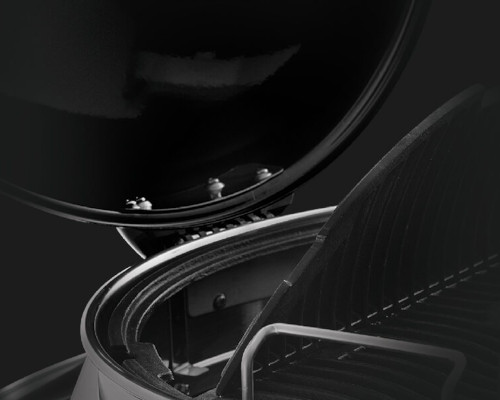 ICONIC SEAR MARKS
Porcelain coated to resist rust, these iconic wave shaped grids provide even heat transfer and a great sear.
EASY ACCESS, HINGED COOKING GRIDS WITH THREE HEIGHT ADJUSTMENTS
Raise and lower the porcelain coated, hinged cooking grids making it easy to cook low and slow or sear beautifully over charcoal.
ACCU-PROBE TEMPERATURE GAUGE
Accurately gauges the temperature for optimal temperature control when grilling.