Napoleon ROGUE 425 | Gas Grill
If perfect sear marks are a badge of honor, the Napoleon Rogue® 425 Propane Gas Grill in Black is the grill for you. Get grilling faster with a grill designed to cut assembly in half. Sleek porcelainized black lid and door with integrated storage compliment your landscaping. Locking casters allow you to roll the Rogue® right into the middle of the action. Folding, stainless steel side shelves free up more space for this grill to tailor itself to your backyard space. Be different, grill different. Go Rogue®. Make marvelous meals for yourself or a crowd while you cook on 425 square inches of main grilling area. You'll know it's a Napoleon with the iconic WAVE™ cooking grids for those distinctive sear marks. Three stainless steel burners provide 36,000 BTU's of heat precisely where it's needed. Dual level stainless steel sear plates vaporize the drippings creating intense flavor while you grill. Your friends and family with think you are a culinary genius.
Accu-Probe Temperature Gauge
Mounted in the hood of the BBQ, the Accu-Probe Temperature Gauge accurately monitors the internal heat of your grill, for optimal temperature control and food results.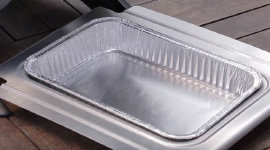 Removable Drip Tray
Catching oils and fats while you cook, the drip tray is conveniently removable for simple cleaning. It is recommended that you clean this often, to maintain a hygienic cooking environment.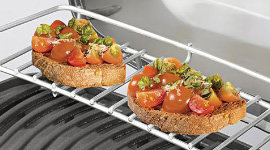 Warming Rack
As the name suggests, the warming rack is designed to keep food warm. If you have meat or veggies that still need a little more time on the grill, the warming rack on this model will keep your cooked food warm in the meantime. You could even use the warming rack as a way to toast buns, creating the perfect burger.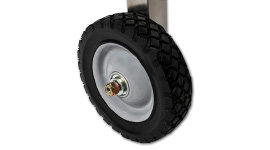 Transport Wheels
Enjoy the comfort of barbecuing wherever you wish thanks to the handy transport wheels. It comes as no shock that some barbecues are quite heavy, and the transport wheels allow you to lift up one side and roll it to where you wish it to be.
Key Specifications
Brand - Napoleon
Model Number - R425PK-AU
Finish Colour - Black/Silver
Finish Colour Description - Black frame with stainless steel components
Height (mm) - 1220 mm
Width (mm) - 1300 mm
Depth (mm) - 640 mm
Hood height (open) - 1600 mm
Hood height (closed) - 1220 mm
BBQ Type - Freestanding BBQ
Fuel Type - LPG (Bottled Gas)
Notes - 890mm with shelves folded down
Warranty
Manufacturer Warranty - 15 Years
Warranty Note - Presidents limited warranty - refer to warranty card inside owners manual
Use - Not intended or designed for commercial use.